Sabena Ravna (Jacqui Wallis) is a female vampire in The Kiss of the vampire (1963). She is daughter of Dr Ravna, the main blood-sucker.
Appearance
Edit
Sabena is young, attractive and elegantly dressed brunette. She seems to like red color - when she is first seen, she is wearing red velvet gown, and later she loans "divine"  ball-gown of same color to heroine Marianne.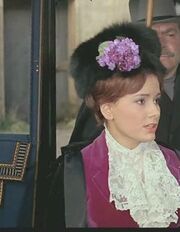 Personality
Edit
Sabena is outwardly refined but actually cruel; she cuts her father´s speech when she finds it too coarse but she has no problem to watch when the vampires torment kidnapped hero Harcourt.